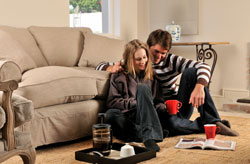 Heating in Worcester, MA by HVAC Experts Inc.
When you live in central Massachusetts, you know to expect plenty of snow and very cold temperatures throughout the winter season. If you hope to keep your home warm and cozy during the coldest time of the year, it is important that you schedule your Worcester heating services with a skilled, trained professional. There is just no other way in which you can be certain that your heater is in great working condition, let alone that it is operating as efficiently and safely as possible. When you work with the heating experts at HVAC Experts Inc., you need have no doubt about it. Contact us today to learn more about the heating services available to you from our fine technicians.
HVAC Experts Inc. provides heating services in Worcester, MA and the surrounding areas.
Get to Know Your Heating Systems in Worcester, MA
Before deciding which heating system is right for your Worcester home and personal heating habits, it is important that you get to know the many different options available to you. This is the only way to ensure that you are 100% satisfied with the design and performance of your heating system. From heat pumps and ductless mini splits to furnaces and boilers, we install and service a great collection of systems throughout the area.
Count on Us for Great Heating Service in Worcester, MA
You need to know that your heater is expertly installed, properly sized for your home, that its routinely maintained with top notch service, and that any problems with your system are repaired thoroughly and promptly. When you schedule each and every one of your heating services in Worcester, MA with us, you'll have no doubt about these expectations being met. Contact us today if you are in need of heating service from a technician you can trust.
Our Heating Contractors in Worcester, MA Are Here for You
You cannot know when you are going to require heating repairs. That is why it is important you hire a heating contractor that is available 24 hours a day to repair your Worcester homes heater any time during the day or night. Give us a call any time, any day if you require emergency repair services, and remember to inquire about our maintenance plan options. This is the best way for you to protect the condition and integrity of your heating system. Contact the heating pros at HVAC Experts Inc. for more details.
No heater will operate at peak performance levels if you do not schedule your heating installation with a trained professional. Just dial our number to do so. We are happy to ensure that your heater is installed right every step of the way.
You are going to encounter problems with your heating system at some point. There is just no getting around this. When you do, just call the technicians on our team. We can handle any heating repairs in Worcester, MA that you may need.
Boilers make for great heating systems. Boilers don't rely on ductwork to distribute heat. Instead, they circulate hot water or steam throughout a system of piping in order to warm your home. Contact us for more details.
The furnace is probably the most common of all heating systems, and with good cause. Furnaces operate efficiently and are able to provide you with prompt heating via their forced air distribution system. In addition to furnace installation, repair, and maintenance, we can also complete your oil to gas conversion.
A fireplace is a great way to add some character to your home. We offer comprehensive fireplace services, including cleanings, inspections, and repairs. Let us know if you are in need of a new fireplace or any services for your existing one.
Heat pumps are truly innovative heating systems, using ambient heat in the air to warm your home. They are also capable of cooling your home as well. Needless to say, enjoying the most efficient performance possible from your heat pump necessitates high–quality, professional heat pump services.
Using a boiler and options such as hydronic heating, or simply via electric radiant panels, you can enjoy even, efficient heating in your home. A radiant system must be expertly installed to operate properly, though. Our technicians are just the professionals to entrust with the installation and service of your heating system.
You don't necessarily have to use air ducts in order to heat your home. You also don't have to opt for a radiant system installation, though. Ductless heating is a great heating option if you are looking for a quick, simple installation, as well as a system that can also cool your home.
In terms of ductless technology, Mitsubishi reigns supreme. It is tough to beat the quality and reliability of Mitsubishi ductless mini splits. Contact us if you are interested in learning more about why you may want to consider this heating option.
If you want to control your heater accurately, you need a great thermostat in Worcester, MA. We are just the technicians to provide you with one. Let us know when you are ready to upgrade your existing thermostat with a new model.
A zone control system allows you great control than ever before over the way in which you heat and cool your home. If you are ready to integrate a zone control system in your heating and cooling system, give us a call.
You can count on HVAC Experts Inc. for comprehensive heating services in Worcester, MA.